Water is a major energy source, and is furthermore a limited ressource. Maintaining its quality, availability and optimize its cost is a real challenge to all industrials.  
With the general mondial conscience over the environnement issues our world is facing nowadays, it is surely the major big challenge of the comming century. We need to find solutions to manage, save and optimize our natural ressources available !
Bluwell is an innovative solution from BWT that is designed to manage differently and optimize the water utilisation in the industry
SORIM HOLDING,  BWT Official distributor  takes its role very seriously toward this major challenge of water ressource management the world and the industrials are facing. 
On which installations ?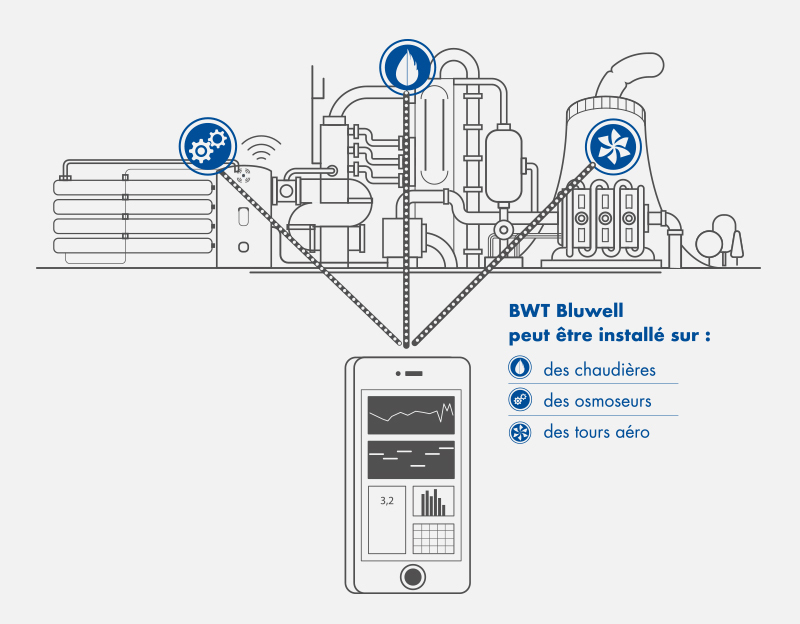 How does it work ?
BLUWELL's Objectives
A simple application, and easy and fast installation
Thanks to an universal box, connected to the installations on site, and via an application, BLUWELL is monitoring in real tiem your water consumption and other key indicators, in order to diagnose, Anticipate, Diagnose and Alelrt.
Bluwell technology allows to :
– collect in real time informations on the usage of the water,
– Follows and analyses your very own datas,
– centralises all your datas from eventual other sites,
– generates alerts and automatic reportings,
– sends reports on a weekly ot monthly base
A simple, powerfull and very intelligent tool :
1. You reduce the costs, the impacts and the risks
2. You optimize the productivity  of your plant(s)
3. You presrve your production and the environment
4. You protect the users, workers and consummers
Bluwell's PLUS :
– A unviersal PLUG-AND PLAY connexion
– A complete compatibility with all installations, materials and makes
– 3 versions available : Bluwell-Standard, Bluwell-Xtra (made for you) and Bluwell-Futura (advanced)
– A web based interface, 100% secureed and confidential
– Warnings in case some abnormal figures are detected
– An anticipation over defaults and preventive maintenance
– A multi-site management all Under one interface
– a full accessibility 24h/24 and 7d/7
We are proud at SORIM HOLDING to present you this exclusive and yet unique industrial solution, in order to manage and optimise the way YOU are using your water ressources in your company.